TATA MOTORS LIMITED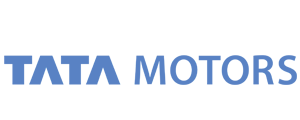 Tata Motors Limited is a USD 42 Bn organisation, and is a leading global automobile manufacturer with a portfolio covering wide range of cars, sports vehicles, buses, trucks and defence vehicles.
Tata Motors mark can be found on and off-road in over 175 countries around the globe. Tata Motors Ltd. was established in 1945 and has today an employee strength of 60,000 persons. Tata Motors Ltd. has sold over 9 Million vehicles and has more than 6,600 sales and service points.
Tata Motors is part of the USD 100 billion Tata group founded by Jamsetji Tata in 1868. It is India's largest automobile company. Tata Motors has its design and R&D centres located in India, the UK, Italy and Korea.
Some of the well known subsidiaries of Tata Motors are:
| Subsidiaries | Websites |
| --- | --- |
| Jaguar Land Rover Automotive Plc. | www.jaguarlandrover.com |
| Tata Daewoo Commercial Vehicle Company Ltd. (TDCV) | www.tata-daewoo.com |
| Tata Marcopolo Motors Ltd. (TMML) | |
| Tata Motors (Thailand) Limited (TMTL) | www.tatamotors.co.th |
| Tata Motors (SA) (Proprietary) Ltd (TMSA) | |
| Tata Motors European Technical Centre plc. (TMETC) | www.tmetc.com |
| PT Tata Motors Indonesia | |
Tata Motors has auto manufacturing and assembly plants in Jamshedpur, Pantnagar, Lucknow, Sanand, Dharwad, and Pune in India, as well as in South Africa, Thailand, and the United Kingdom. It has research and development centres in Pune, Jamshedpur, Lucknow, and Dharwad, India and in South Korea, Spain, and the United Kingdom.
Tata Motors is listed on the (BSE) Bombay Stock Exchange, where it is a constituent of the BSE SENSEX index, the National Stock Exchange of India, and the New York Stock Exchange. Tata Motors is ranked 287th in the 2014 Fortune Global 500 ranking of the world's biggest corporations.
Tata Motors has vehicle assembly operations in India, the United Kingdom, South Korea, Thailand, Spain and South Africa.
In Angola, Campotec is the distributor for Tata Motors.