Mahindra Automotive and Farm Equipment Sectors (AFS)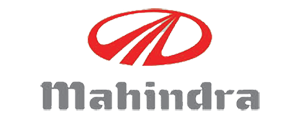 Mahindra and Mahindra was founded in 1945 as a steel trading company and in 1947, the Group entered auto manufacturing to bring in the iconic Willy's Jeep (under license) on to Indian roads.
The founders, K.C and J.C. Mahindra, believed that introducing new modes of transportation held the key to India's prosperity, so one of their first goals was to build durable, rugged vehicles that could handle the rough Indian terrain. In the 1950s and 60s, the Group diversified into businesses like Steel, Tractors, and more. Over time the Group consolidated its position in Automobiles, Tractors and Steel and entered promising sectors like IT, Hospitality, Financial Services, Components, Aerospace and Logistics, led by the goal of providing products and services that support prosperity. Today the Group is a $16.9 billion global corporation employing more that 200,000 people across the globe. The Group's flagship company, Mahindra & Mahindra, is a leader in the tractor and utility vehicles space.
It was ranked as the 10th most trusted brand in India, by The Brand Trust Report, India Study 2014. It was ranked 21st in the list of top companies of India in Fortune India 500 in 2011.
In addition to tractors, Mahindra sells other farm equipment. It has expanded its product-line to include farm-support services via Mahindra AppliTrac (farm mechanisation products), Mahindra ShubhLabh (seeds, crop protection, and market linkages and distribution), and the Samriddhi Initiative (farm counselling and information services).
The Mahindra Automotive and Farm Equipment Sectors (AFS), is one of the largest contributors to the Mahindra Group revenue and includes 27 businesses, 18 subsidiaries and 9 companies.
The business motto of the Farm Equipment department is to deliver "Farm Tech Prosperity" around the globe. The business also has its presence in end-to-end agriculture value chain providing irrigation, fertilization, seeds through varied agriculture and allied businesses.
"Capable people, REAL experience" – is the EVP statement of Mahindra and Mahindra Automotive and Farm Equipment Sectors. This statement creatively combines both the aspects of an effective EVP – what an organization gets and what it gives back. The Mahindra people factor incorporates the essence of the Mahindra brand transformation program Rise.
In Angola, Campotec is the authorised distributor for Mahindra & Mahindra Agricultural machines and implements.